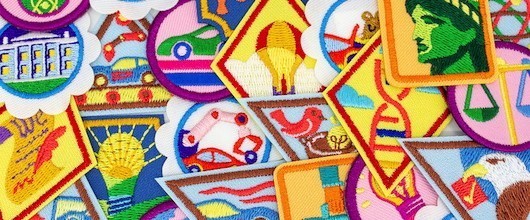 Badges and Journeys
Learn New Skills and Celebrate
What is your girl passionate about? Does she dream of directing her own movie, cooking food from a different country, or going geocaching? Sleeping under the stars, writing a book of short stories, or building a website? Girl Scout badges, journey awards, and patches will give her these opportunities and hundreds more!
Badge and journey activities are girl-led, encourage cooperative learning, and provide opportunities for learning by doing. Girls discover and explore their unique strengths and abilities, connect with others, and take action to make the world a better place. These three keys to leadership — Discover, Connect, and Take Action — are based on the values of the Girl Scout Promise and Law.
She'll feel accomplished for her hard work and can show the world what she's done by displaying her awards on her uniform.

  NEW Badges: 24 New Ways to Take Leadership to the Next Level
New Girl Scout badges are here—and we've added even more skill-building, friend-making, life-changing experiences to the Girl Scout program!
There's never been a better time for girls to practice ambitious leadership—and there's no better place to do it than at Girl Scouts. This year, we've added new badges in the following categories:
Entrepreneurship
STEM Career Exploration
Automotive Engineering
Civics
What will her next amazing adventure look like? Visit the New Badge Activity Sampler for an introduction to the new badge activities or tune in for one of the special events—and show the world her courage, confidence, and character as she makes the world a better place. 


  Badges and Journeys: What's the Difference?
Think of badges as the first step of your girl exploring new interests. Through guided activities, she'll learn about the world around her and explore diverse topics based on our four pillars — Outdoors, STEM, Entrepreneurship, and Life Skills.
Along the way, she'll likely discover a topic she's passionate about and will use her earned badges to tie into a journey. Through a journey, she'll learn how she can lead innovative projects and take initiative to support the community.

  Council Patch Program
Girls love to earn badges and journey awards they can display on their uniforms. But that's not all — she can earn patches too!
As a member of the Girl Scouts of Central Texas council, your girl has access to unique program patches beyond those listed in the program-level handbooks. She can even earn patches by attending special events.