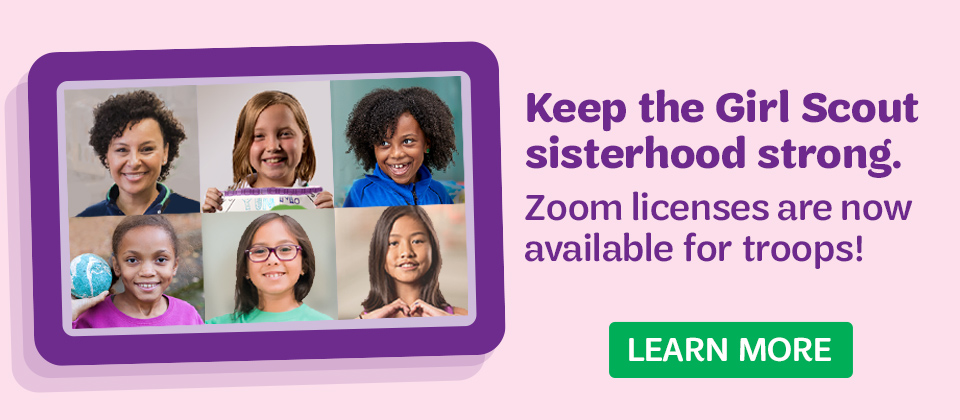 Zoom Request
Zoom is an online video conferencing tool that is easy and intuitive and can be used on laptops, tablets, and smartphones. Zoom is a great way to bring real-time, face-to-face connections to virtual experiences.
Two ways to access Zoom for troop and service unit meetings:
Using a free personal account

Purchasing a gsZoom license

Who is eligible to purchase a gsZoom license?

Any GSCTX volunteer who is 18 years of age or older, registered as a volunteer for the 2022-2023 Membership Year, and has a current, eligible criminal background check on file.

What do I get as part of a gsZoom license?

You get an advanced license to use for facilitating Girl Scout meetings and events.
Your license will be assigned to you, the authorized user, and linked to your email address.
Your license will allow a 500 person capacity and unlimited time for each meeting.
Your license will allow waiting rooms, breakout rooms, and both meeting and webinar formats.
Your license will not allow Skype integrations, live streaming, or passing camera control to others.

How does a gsZoom license work?

Complete the form below to request a gsZoom license.
You will be asked to read and accept the gsZoom User Agreement and the Zoom Acceptable Use Policy.
You will be asked for credit card information to pay for your gsZoom license.
Council staff will verify eligibility and send an email containing your license information within 3-5 business days.
Begin leading Girl Scout meetings on your gsZoom account.
Your license will be active from the date of receipt of that email until July 31, 2023 at which time, you will be offered the option to renew.

How much does a gsZoom license cost?

gsZoom licenses cost $36. This one-time payment covers all license and use fees from August 1, 2022 through July 31, 2023. Payment can be made using personal or troop credit/debit card on the form below.

First-time troop leaders (one per troop) are eligible to receive a free gsZoom license for the 2022-2023 Membership Year.

All purchases are final. Once the submit button is pressed, the payment will be processed and will not be refundable. If a requester does not meet the requirements for a gsZoom license, they will be given the opportunity to register, claim a volunteer role, and/or complete a background check. If a volunteer no longer requires their gsZoom license prior to its expiration, they will need to notify GSCTX by submitting a case at www.gsctx.org/ContactUs so that the account can be disabled per the GSUSA Zoom License User Agreement. However, no refunds will be given for unused months.

Complete the form below to purchase your gsZoom license.

Online safety

With the rise of virtual teleconferencing security concerns (see the FBI warning), Girl Scout volunteers should take precautions to prevent meetings from falling victim to hijacking attempts. Zoom is a fully encrypted platform with industry leading security protocols in place.  For a detailed guide on how to secure your meetings, check out Zoom's official security recommendations. Overall, the best practices for securing your meetings are as follows:

Make all conference meetings password protected. Discourage sharing meeting links on public-facing platforms.
Enable/assign a co-host that has the same administrative privileges while the administrator/host presents.
Disable the "Allow Removed Participants to Rejoin" option, which prevents those kicked off the call from coming back.

For even more meeting security, you can:

Disable all non-host screen sharing capabilities, making sure screen share capabilities remain host-only.
Enable the "Waiting Room" feature, which allows hosts of the meetings to see participants in a virtual staging area so they can be vetted before joining.
Note that this second set of recommendations may make it more difficult for actual invited participants to share appropriate content in your meeting.
Note: Beginning November 1, 2021, customers will be required to update their Zoom software to ensure it is no more than nine months behind the current version, at any given time. From that point on, users will be prompted to update their software when using the platform should their version fall behind this nine-month window.