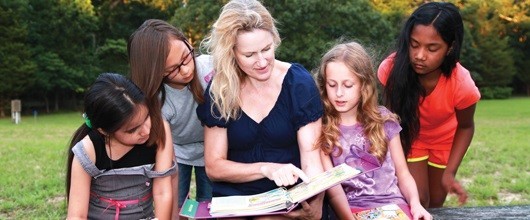 Ways to Give
Thank you so much for your interest in donating to Girl Scouts! There are as many ways to give as there are people in Central Texas. We are an all-hands-on-deck kind of place so please find a way to connect with us and help us change our world, one girl, one community at a time.
Donate TODAY!

Friends of Girl Scouting (FOGS)

As family, friends and alumnae, you know the benefits of Girl Scouting first hand. You've seen how Girl Scouts has changed entire generations of girls. We need your help to continue this amazing legacy! Learn more about FOGS.

Juliette's Circle

Juliette's Circle is a community of leaders who believe in the mission of Girl Scouts. It was started by two of our Women of Distinction in 2014. Through sustainable giving, they ensure that every girl in Central Texas has access to crucial, life-changing, girl-led programming so that she can discover who she is, connect with the world around her, and take action to make the world a better place.

Juliette's Circle members believe that when girls succeed, so does society.

View our Juliette's Circle member pictorial on Issuu.

Matching Gifts

Many companies have Matching Gift Programs and will match their employees' donations to any registered nonprofit organization. So if you give to Girl Scouts, you can give twice as much!

Service Projects

There's a lot of work to be done at all of our facilities and we just don't have enough hands to go around. If you're willing to lend us your hand, we will use it to get some projects done. Take a look at our "honey-do" list and see where your talents fit in!

Check out our 2018 Bryan Scout House Renovation Project!

Planned Giving
Juliette Low's legacy continues and is financially supported by generous contributions from Legacy Members of Juliette's Circle, a group that advocates the principles set forth in the Girl Scout Promise and Law by committing planned gifts to Girl Scouts of Central Texas (GSCTX). 
"It brings me incredible joy knowing that I will leave a LEGACY OF LEADERSHIP and support by providing for the future of Girl Scouts of Central Texas through a bequest under my will." - Ms. Linda Pelton, Former Woman of Distinction, Former Board Chair/President, Juliette Circle Founder, and Legacy Member of Juliette's Circle
The Board of Directors and Staff of Girl Scouts of Central Texas thank all of our friends and supporters who have arranged for GSCTX to receive a bequest, charitable gift annuity, retirement, life insurance or other deferred gifts. Below is a summary of some planned giving options. These are not offered as professional tax or legal advice and may not apply in all cases. Please consult a tax advisor or legal counsel about your specific situation.
Support the Girl Scouts of Central Texas through a Planned Gift and become a Legacy Member of Juliette's Circle.

If you have already included the Girl Scouts of Central Texas in your estate plans, please let us know by completing a letter of intent, calling our office at 512-490-2345, or emailing jenniferl@gsctx.org.
Bequests

Leave Girl Scouts of Central Texas in your will. Bequests can be made at any time to Girl Scouts of Central Texas.  If Girl Scouts of Central Texas is listed as a beneficiary of your will, please let us know by contacting us at 512.490.2345.


Charitable Gift Annuities

A gift annuity is a tax-smart way for you to give back. If you are interested in a charitable gift annuity that offers competitive returns starting at (70 years of age), please contact (our Resource Development team at) 512.490.2345 and we will provide you with all the information you need to get started.

Gift of Retirement Assets

Donors may consider making Girl Scouts of Central Texas a beneficiary of a percentage of their pre-tax qualified retirement plan, such as an Individual Retirement Account, 401k, 403b or Thrift Savings Plan to name a few. This is done via a beneficiary designation form.  These pre-tax assets are received by a qualified non-profit free from income tax liability, leaving other tax-friendly assets available to pass along to your family and other heirs. Contact 512.490.2345 for the needed information to put on the beneficiary designation form.

Gifts of Stocks

A beneficial way to contribute to Girl Scouts of Central Texas is through a gift of stock. Through gifts of securities, you can avoid capital gains taxes by donating the shares directly to charity. Check out our stock instruction sheet here. 

Gifts of Life Insurance

Donors may choose to give life insurance policies to Girl Scouts of Central Texas either as an immediate gift or as a designated beneficiary. This can be an easy way to make a gift to Girl Scouts of Central Texas without revising your will and can have advantageous estate tax consequences.  Donors who consider giving life insurance policies do typically so because they have no heirs or because they already have made provisions for beneficiaries through other financial vehicles.

Next Steps

Contact Jennifer Lester at 512-490-2345 or jenniferl@gsctx.org for additional information about becoming a Legacy Member of Juliette's Circle, including different options to leave the Girl Scouts of Central Texas in your will or estate plan.
Seek advice from your legal or financial advisor
If you include the GSCTX in your plans, please use our legal name and federal tax ID       

Legal Name: Girl Scouts of Central Texas
Address: 12012 Park 35 Circle, Austin, TX  78753
Federal Tax ID Number: 74-1109644

The purpose of this web page is to provide general information of only. The Girl Scouts of Central Texas is not engaged in providing legal or tax advisory service. Advice from legal and tax counsel should be sought when considering these types of gifts.
Women of Distinction

Women of Distinction (WoD) is our signature event which celebrates women who have distinguished themselves as outstanding members of their community through individual excellence and high levels of achievement. WoD is held each year in March or April in Killeen, Temple, Waco, San Angelo, Austin, Stephenville, or Brownwood, and September in Bryan-College Station.