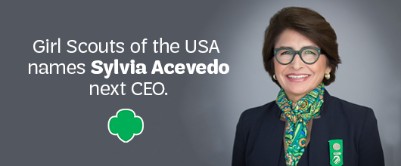 After a thorough nationwide search, the Girl Scouts of the USA National Board has named interim leader Sylvia Acevedo the permanent CEO of our 105-year-old organization.
Sylvia is an enduring champion of girls' and women's causes who brings a deep understanding of the youth leadership market and the evolving needs of today's girls.
Continue >

Girl Scouts doesn't just prepare you to succeed. It prepares you to get back up when you fall down. Watch our new public service announcement (PSA) for some inspiration.
Continue >

Have you ever wondered what it's like to fly down a zipline or brave the high ropes course? Watch our series of short Go Pro videos to get a first-hand view of this super-fun outdoors experience.
Continue >


16 May 2017
Read the latest weekly newsletter from the council.