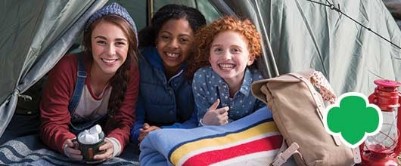 Starting today, until February 17, girls can vote on their favorite design for the Troop Camping badges. After choosing their grade level, they'll see two designs for the badge they'll be able to earn this coming fall.
Continue >

Girl Scouts doesn't just prepare you to succeed. It prepares you to get back up when you fall down. Watch our new public service announcement (PSA) for some inspiration.
Continue >

Have you ever wondered what it's like to fly down a zipline or brave the high ropes course? Watch our series of short Go Pro videos to get a first-hand view of this super-fun outdoors experience.
Continue >