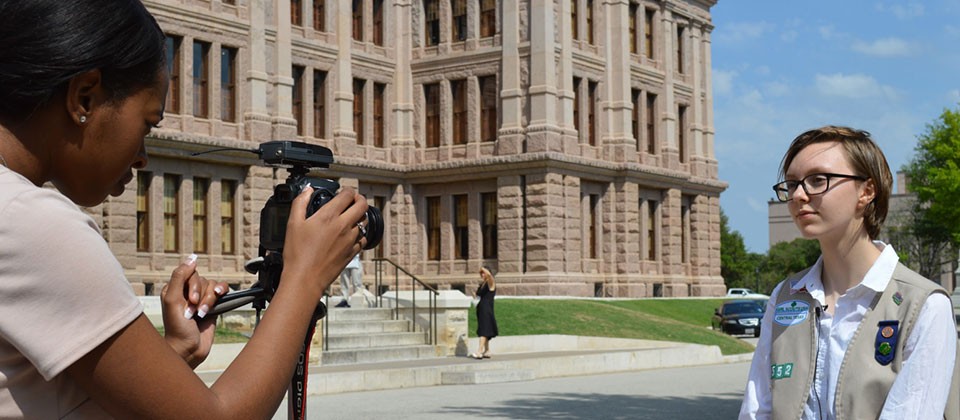 Looking for a wow-worthy story? Look no further...
Girl Scouts of Central Texas (GSCTX) is full of fantastic stories.  On this page you will find access to some of those stories and press materials. In addition to all the ah-mazing ways our girls are making the world a better place, we also always have a spotlight to shine on our superhero volunteers, programs (STEM, Girl Scout Cookies, and camp—oh my!), and special council events. The possibilities are endless!



Share and read GSCTX news
Have a great story to share about a girl, troop or event? Share it with us here.

Sign up for our newsletters: Tuesday's Trefoil, a weekly email that shares all the great happenings around GSCTX and/or eNews, a quarterly email that shares exciting stories about the impact Girl Scouts are having on Central Texas.
Want to read our latest council magazine, the Trefoil Tribune? GSCTX members receive a print copy of this biannual magazine in the mail. See below or follow this link to view a digital copy of our latest issue.
Already read it? Let us know what you think! Take our survey on our latest issue here.  
MEDIA CONTACTS
Members of the media can contact:
Lolis Garcia-Baab, Director of Marketing & Communications
Office: 1.800.733.0011 ext. 185, LolisGB@gsctx.org
Reyna Martinez, Public Relations Executive Areas 1, 2, 3 (includes Brownwood, San Angelo, Stephenville, Waco, Killeen, Temple, and Bryan/College Station)
Office: 1.800.733.0011 ext. 161, ReynaM@gsctx.org
Hannah Bruno, Public Relations Executive Area 4 (greater Austin area)
Office: 1.800.733.0011 ext. 136, HannahB@gsctx.org
* Not sure what area you are? Check out our county listing here.
We can't wait to hear from you!
 PRESS RELEASES & MEDIA ADVISORIES
Have a question for GSCTX Marketing & Communications? Contact us!