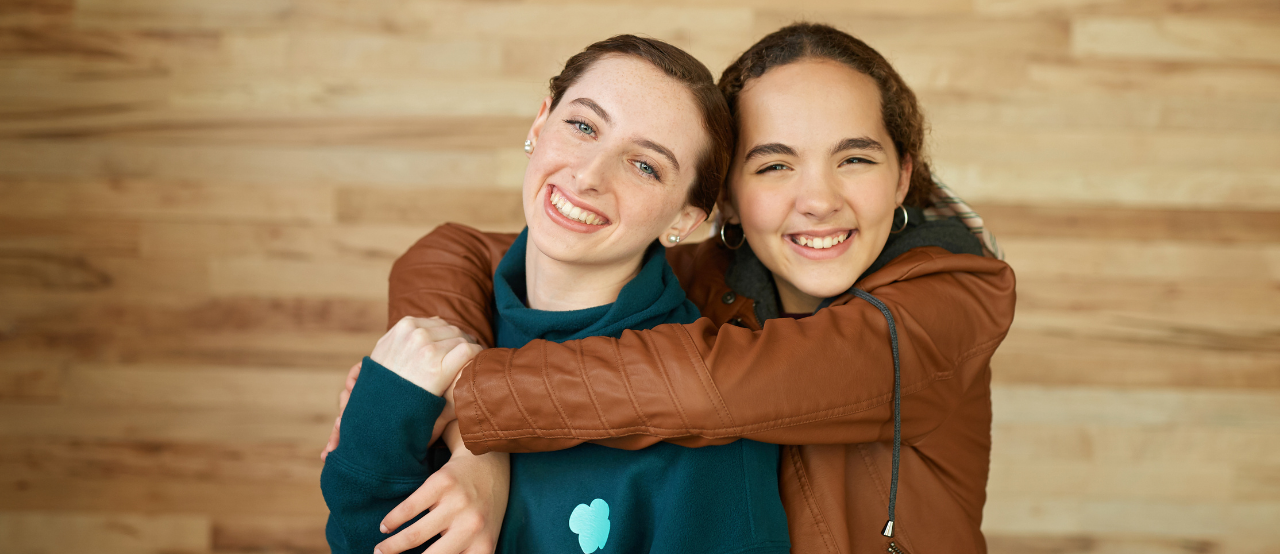 Scholarships
Girl Scouts are recognized around the country as being strongly-driven, self-motivated and high-achieving individuals. At GSCTX, we aim to recognize these fabulous ladies with the Founder's Scholarship.  Do you have questions about the Founder's Scholarship? Contact Melissa Green, Area 2 Programs and Teen Mentor Specialist at
MelissaG@gsctx.org.
*Don't forget that being a Girl Scout helps you with lots of other scholarships, so be sure to include that on your other scholarship applications! 

Founder's Scholarship
Each year the Girl Scouts of Central Texas awards ten $1,000 scholarships to registered graduating Girl Scout members.
Qualifications
Registered graduating senior Girl Scout members of GSCTX only
Active participation in Girl Scouting (affiliation with a troop not necessary)
Demonstrated academic achievements
Attendance at a college, university, trade or technical school
Criteria for Consideration
Overall strength of the application
Overall strength of the recommendations
Girl Scout, school, community leadership activities, awards earned and work experience
High School grades and test scores
Gold Award achievement
Financial need
Please note that the scholarship deadline is February 5, 2016
Scholarship Forms
Additional 2016 Scholarships Opportunities

2016 Alcoa Chuck McLane Scholarship Program
In June of 2013, GSUSA announced the five year Alcoa Chuck McLane Scholarship available for Girl Scout Gold Award Recipients. The scholarship program awards a $10,000 college scholarship to two (2) recipients each year, up to a total of ten (10) recipients by 2017. This program is made possible through the generous support of the Alcoa Foundation.
Girls should submit completed applications to their council by February 15, 2016, by emailing their application to mygoldaward@gsctx.org. Application should be submitted as "First Name_Last Name_Council Name_2016 Alcoa Scholarship".
Each council is responsible for reviewing the girls' applications they receive and for selecting up to two nominees.
A panel of corporate and community leaders will assist GSUSA in choosing two scholarship recipients from the pool of nominees. Councils and applicants will be notified by May 6, 2016.
See application for scholarship requirements and details.

Questions? Email us at AlcoaScholarship@girlscouts.org or contact Jodi Schwarzer at 212-852-8076.

KPMG Future Leaders Program

We are excited to announce the opportunity for girls to participate in the 2016 KPMG Future Leaders Program, which will include receiving a KPMG Future Leaders Scholarship for $10,000 each year for 4 years of college, attending the 3-day KPMG Future Leaders Retreat at Stanford University this July, and participating in the KPMG Future Leaders Mentoring Program for one year. The Office of Condoleezza Rice is currently accepting applications. They will select 16 top high school senior female students from around the country to participate in this program.

The  KPMG Future Leaders Program application includes an overview of the program, instructions on how to apply, and a list of specific criteria needed to qualify for the program. You can also read a cover letter from Dr. Condoleezza Rice and Lynne Doughtie, Chairman and CEO, KPMG LLP.  

Applications are due to the Office of Condoleezza Rice at Stanford University by February 28, 2016.  The 16 winners will be selected and notified by April 30, 2016, and the program will publically launch with a media announcement on June 7th, the day before the KPMG Women's Leadership Summit.

New Scholarship Opportunity from Minerva

Minerva is a new, accredited university program designed by a former Harvard dean and successful entrepreneur. The goal of the program is to prepare students to lead and innovate in an uncertain future. Minerva students have a global residential experience, spending freshman year in San Francisco with subsequent semesters in cities like Berlin, Buenos Aires, London, and more.

GSUSA has partnered with Minerva to provide 4-year scholarships covering half of yearly tuition ($5,000) to Girl Scouts. This is a unique opportunity to help girls continue their leadership development after leaving Girl Scouts. Any girl who has completed her Gold Award, participated in a Destination, or traveled with her troop can apply for this scholarship. The application is free and due January 15th.
 
For more information, girls may visit the website or join an information session with Minerva students, staff, and faculty. Minerva was also recently featured in The New York Times. Girl Scouts who apply will automatically be considered for the scholarships, so they can begin applying today. 
GSUSA compiled list of universities/colleges, foundations, and Girl Scout councils that offer scholarships, awards and grants to Girl Scouts.



2015 Scholarship Recipients
FOUNDER'S
Emma Brocato, Westwood HS, Circle Tree Service Unit (Austin)
Bailey Johnson, Llano HS, Hill Country Service Unit (Llano)
Brooke Kincanon, Bryan Collegiate HS, Bryan/College Station Service Unit (Bryan)
Marissa Konde, Bowie HS, Oak Hill Service Unit (Austin)
Charlotte Lichtenheld, McCallum HS, Midtown Service Unit (Austin)
Anna Nemec, St. Joan of Arc Homeschool Academy, Texas Skies Service Unit (Taylor)
Heather Sieger, Cedar Park HS, Monarch Service Unit (Cedar Park)
Mackinsey Smith, Austin HS, Sunnyside Service Unit (Austin)
Barbara Soques, LASA HS, Oak Hill Service Unit (Austin)
Robin Weise, Vista Ridge HS, Monarch Service Unit (Cedar Park)
"A MOTHER'S LOVE" SCHOLARSHIP
Ashley Yantz, Giddings High School, Bluebonnet Trails Service Unit (Giddings)
GSCTX ALUMNAE SCHOLARSHIP
Emily Scurlock, Hutto High School, Texas Skies Service Unit (Georgetown)
KIRSTEN BILLHARDT SCHOLARSHIP
Caroline Young, Anderson High School, Bluebonnet Valley Service Unit (Austin)
SHANNON ROBINSON MEMORIAL SCHOLARSHIP
Morgan Robinson, Vista Ridge High School, Monarch Service Unit (Leander)
WOMEN OF DISTINCTION / BEVERLY SCARBOROUGH MEMORIAL SCHOLARSHIP
Sarah Young, Discover Academy High School, Pecan Trails Service Unit (Pflugerville)