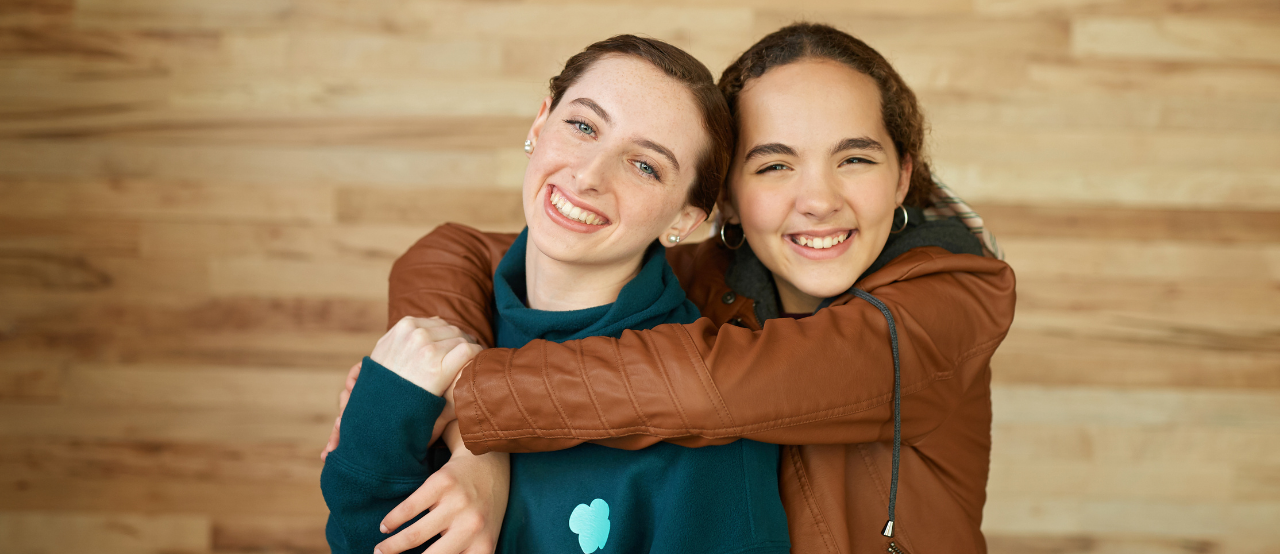 Scholarships
Girl Scouts are recognized around the country as being strongly-driven, self-motivated and high-achieving individuals. At GSCTX, we aim to recognize these fabulous ladies with the Founder's Scholarship.  Do you have questions about the Founder's Scholarship? Contact Glenda Hicks, Volunteer Development Associate at GlendaH@gsctx.org. 
*Don't forget that being a Girl Scout helps you with lots of other scholarships, so be sure to include that on your other scholarship applications! 

Founder's Scholarship
Each year the Girl Scouts of Central Texas awards ten $1,000 scholarships to registered graduating Girl Scout members.
Qualifications
Registered graduating senior Girl Scout members of GSCTX only
Active participation in Girl Scouting (affiliation with a troop not necessary)
Demonstrated academic achievements
Attendance at a college, university, trade or technical school
Criteria for Consideration
Overall strength of the application
Overall strength of the recommendations
Girl Scout, school, community leadership activities, awards earned and work experience
High School grades and test scores
Gold Award achievement
Financial need
Scholarship Forms
Additional Scholarship Opportunities

TEXAS ELKS SCHOLARSHIP
The Texas Elks State Association offers a $2,500 college scholarship to Girl Scout Gold Award recipients. Applications should be submitted through local lodges. Visit the Texas Elks website for more information.

YOUNG WOMEN IN PUBLIC AFFAIRS SCHOLARSHIP
Women of any nationality, who are ages 16-19 or studying in a Zonta district/region at the time of application and demonstrate evidence of active volunteerism, experience in local or student government, volunteer leadership achievements and knowledge of Zonta International are eligible to apply. For more information, visit the Zonta website.

TEXAS DEPARTMENT OF TRANSPORTATION
The Texas Department of Transportation (TxDOT) is currently accepting applications for the Conditional Grant Program (CGP). The grant is available to graduating high school seniors and current college students majoring in civil engineering, computer science or management information systems. The maximum amount to be awarded is $3,000 per semester not to exceed $6,000 per academic year. Click here for more information.
Every spring, TXDOT awards one $3,000 and two $1,000 scholarships to graduating Texas high school seniors who take the initiative to combat litter in their schools or communities. Visit http://www.dontmesswithtexas.org/scholarship after February 1 for more details. 

SCHOLARSHIPS FOR MILITARY CHILDREN
There are lots of agencies that sponsor scholarships to the children of military active duty, Reserve, Guard and retired personnel. You can find scholarship opportunities here. You can also do an internet search to find lots more.

HSC SCHOLARSHIP PROGRAM
The Hispanic Scholarship Consortium (HSC) is a vibrant collective impact entity focused on providing Latino scholars with access to higher education, academic success, professional experience, and a network of support. These research-based efforts equip Latino millennials with the greatest opportunity to compete and lead in the global marketplace. Visit the HSC website.

P.E.O. STAR SCHOLARSHIP
The P.E.O. STAR Scholarship is a highly competitive one-time $2,500 scholarship recognizing graduating high school senior women who demonstrate outstanding leadership, academic achievement, extracurricular activities, and community service and who plan to pursue full or part-time post-secondary education in the United States or Canada beginning in the fall following their high school graduation.  Click here for scholarship overview and FAQ.  Email Lori Goto at lorigoto@realtyaustin.com or call her at 512-461-1577 to arrange an interview.
Didn't find a scholarship here to match your needs? That's ok, you can find lots of scholarship opportunities at http://www.finaid.org. You can find information on financial aid at http://www.fafsa.ed.gov/.
2015 Scholarship Recipients
FOUNDER'S
Emma Brocato, Westwood HS, Circle Tree Service Unit (Austin)
Bailey Johnson, Llano HS, Hill Country Service Unit (Llano)
Brooke Kincanon, Bryan Collegiate HS, Bryan/College Station Service Unit (Bryan)
Marissa Konde, Bowie HS, Oak Hill Service Unit (Austin)
Charlotte Lichtenheld, McCallum HS, Midtown Service Unit (Austin)
Anna Nemec, St. Joan of Arc Homeschool Academy, Texas Skies Service Unit (Taylor)
Heather Sieger, Cedar Park HS, Monarch Service Unit (Cedar Park)
Mackinsey Smith, Austin HS, Sunnyside Service Unit (Austin)
Barbara Soques, LASA HS, Oak Hill Service Unit (Austin)
Robin Weise, Vista Ridge HS, Monarch Service Unit (Cedar Park)
"A MOTHER'S LOVE" SCHOLARSHIP
Ashley Yantz, Giddings High School, Bluebonnet Trails Service Unit (Giddings)
GSCTX ALUMNAE SCHOLARSHIP
Emily Scurlock, Hutto High School, Texas Skies Service Unit (Georgetown)
KIRSTEN BILLHARDT SCHOLARSHIP
Caroline Young, Anderson High School, Bluebonnet Valley Service Unit (Austin)
SHANNON ROBINSON MEMORIAL SCHOLARSHIP
Morgan Robinson, Vista Ridge High School, Monarch Service Unit (Leander)
WOMEN OF DISTINCTION / BEVERLY SCARBOROUGH MEMORIAL SCHOLARSHIP
Sarah Young, Discover Academy High School, Pecan Trails Service Unit (Pflugerville)