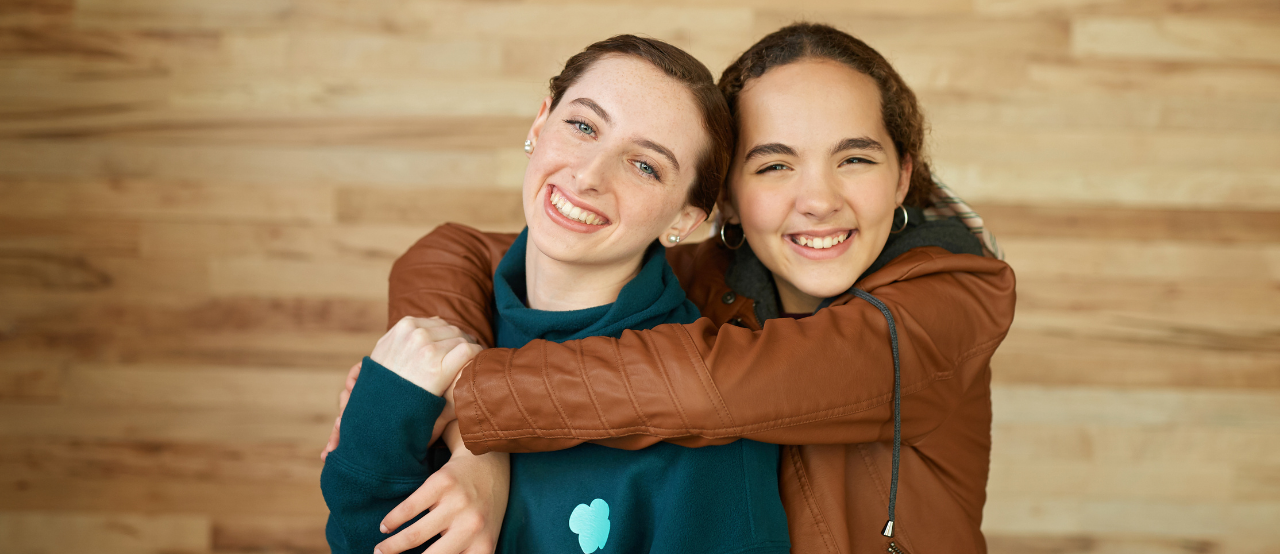 Scholarships
Girl Scouts are recognized around the country as being strongly-driven, self-motivated and high-achieving individuals. At GSCTX, we aim to recognize these fabulous ladies with the Founder's Scholarship. Do you have questions about the Founder's Scholarship? Contact Melissa Green, Area 2 Programs and Teen Mentor Specialist, at
MelissaG@gsctx.org.
*Don't forget that being a Girl Scout helps you with lots of other scholarships, so be sure to include that on your other scholarship applications! 

Founder's Scholarship
Each year the Girl Scouts of Central Texas awards ten $1,000 scholarships to registered graduating Girl Scout members.
Qualifications
Registered graduating senior Girl Scout members of GSCTX only
Active participation in Girl Scouting (affiliation with a troop not necessary)
Demonstrated academic achievements
Attendance at a college, university, trade or technical school
Criteria for Consideration
Overall strength of the application
Overall strength of the recommendations
Girl Scout, school, community leadership activities, awards earned and work experience
High School grades and test scores
Gold Award achievement
Financial need
Please note that the scholarship deadline is February 5, 2016
Scholarship Forms
Additional 2016 Scholarships Opportunities

ComputerScience.org Scholarships
It's widely known that there are far fewer women than men in computer science, but how can we help reverse that trend? ComputerScience.org is part of a new initiative to form the next generation of engineers, developers, and network administrators, and they are striving to get more women involved.
Because college can be so expensive for women pursuing engineering degrees, we've collected 20 scholarships available only to women earning computer science degrees. It's part of a larger resource ComputerScience.org has created to bring more women into STEM fields.

KPMG Future Leaders Program
We are excited to announce the opportunity for girls to participate in the 2016 KPMG Future Leaders Program, which will include receiving a KPMG Future Leaders Scholarship for $10,000 each year for 4 years of college, attending the 3-day KPMG Future Leaders Retreat at Stanford University this July, and participating in the KPMG Future Leaders Mentoring Program for one year. The Office of Condoleezza Rice is currently accepting applications. They will select 16 top high school senior female students from around the country to participate in this program.

The KPMG Future Leaders Program application includes an overview of the program, instructions on how to apply, and a list of specific criteria needed to qualify for the program. You can also read a cover letter from Dr. Condoleezza Rice and Lynne Doughtie, Chairman and CEO, KPMG LLP.  

Applications are due to the Office of Condoleezza Rice at Stanford University by February 28, 2016. The 16 winners will be selected and notified by April 30, 2016, and the program will publically launch with a media announcement on June 7th, the day before the KPMG Women's Leadership Summit.

Texas Elks State Association
The Texas Elks State Association awards a $2,500 scholarship annually to one Texas graduating senior who has earned the Girl Scout Gold Award. The 2016 scholarship must be used at a Texas college, university or trade/vocational school during the 2016–17 school year. Click here for the application.
If you have any questions, please call Patty Trimingham at 409-770-3113. Additional scholarships are available on the Texas Elks website.



2015 Scholarship Recipients
FOUNDER'S
Emma Brocato, Westwood HS, Circle Tree Service Unit (Austin)
Bailey Johnson, Llano HS, Hill Country Service Unit (Llano)
Brooke Kincanon, Bryan Collegiate HS, Bryan/College Station Service Unit (Bryan)
Marissa Konde, Bowie HS, Oak Hill Service Unit (Austin)
Charlotte Lichtenheld, McCallum HS, Midtown Service Unit (Austin)
Anna Nemec, St. Joan of Arc Homeschool Academy, Texas Skies Service Unit (Taylor)
Heather Sieger, Cedar Park HS, Monarch Service Unit (Cedar Park)
Mackinsey Smith, Austin HS, Sunnyside Service Unit (Austin)
Barbara Soques, LASA HS, Oak Hill Service Unit (Austin)
Robin Weise, Vista Ridge HS, Monarch Service Unit (Cedar Park)
"A MOTHER'S LOVE" SCHOLARSHIP
Ashley Yantz, Giddings High School, Bluebonnet Trails Service Unit (Giddings)
GSCTX ALUMNAE SCHOLARSHIP
Emily Scurlock, Hutto High School, Texas Skies Service Unit (Georgetown)
KIRSTEN BILLHARDT SCHOLARSHIP
Caroline Young, Anderson High School, Bluebonnet Valley Service Unit (Austin)
SHANNON ROBINSON MEMORIAL SCHOLARSHIP
Morgan Robinson, Vista Ridge High School, Monarch Service Unit (Leander)
WOMEN OF DISTINCTION / BEVERLY SCARBOROUGH MEMORIAL SCHOLARSHIP
Sarah Young, Discover Academy High School, Pecan Trails Service Unit (Pflugerville)