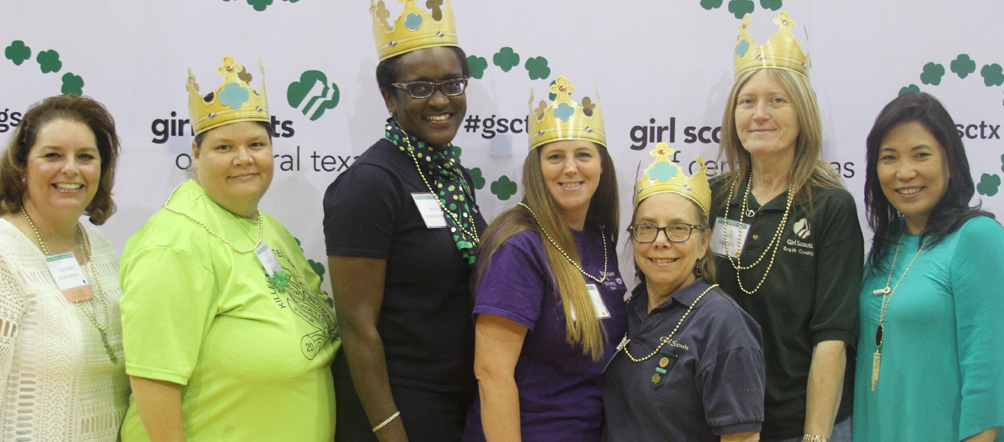 Volunteer Appreciation and Awards
Sharing respect and appreciation for the work volunteers perform is a key motivator for lasting performance. Volunteers do much of the operational field work in Girl Scouts, and they're doing it all for the girls. Girl Scout volunteers put in long hours on top of busy schedules with professional and personal commitments. Girl Scouting wouldn't exist without the support and care of our volunteers. Volunteers should be continually recognized to cultivate future engagement and activity.
Service unit, council, and national awards are a great way to make your fellow volunteers feel appreciated! Know someone who has gone above and beyond for Girl Scouts? Nominate them for one of the awards!
Learn about the awards by reviewing the GSCTX Volunteer Awards Guide, including the Awards Decision Tree, to see which awards your candidate may be eligible to earn.
Identify others who can complete any required additional letter(s) of recommendation.
Complete the appropriate online form. Anyone can submit a Council and National Awards Nomination Form. Service unit leadership and service unit volunteer recognition coordinators can submit an order form for service unit awards.
Recognize volunteers with 10 or more years of Girl Scout service.
Volunteer Service Award Pins (10 years and over) are council-level awards approved by Girl Scouts of Central Texas staff and presented at the annual Volunteer Awards Ceremony. Submit a 10+ Years of Volunteer Service Award Pin Nomination Form to ensure eligible volunteers are recognized.

Join the Volunteer Awards Committee.
Interested in working collaboratively to select nominees for council and national awards? Apply today to be a part of the Volunteer Awards Committee now through Tuesday, February 14, 2023. Submissions will be reviewed by council staff, and applicants will be notified no later than March 3, 2023. Service unit volunteers and troop leaders are welcome to apply.
Volunteer Awards Committee meetings are held virtually from March through May.
Meetings are typically from 7 – 8:30 p.m. on the second and fourth Tuesday of each month starting on March 28.
Learn more about the role of our Volunteer Awards Committee Member for more information.
Small gestures go a long way. A card from the troop, a handmade gift, or a photo keepsake are just some of many ideas that can show thanks to someone. Use inspiration from this list to show appreciation to your volunteers.
Send mail, text, or phone call thank-yous with a note from you, a troop, or service unit leader. 
Craft small tokens or gifts with a creative thank-you message. Examples: Patch or badge mobile, flower arrangement, special ceramic plaque, scrapbook, sampler, poster, decoupage, ornament, bookmark.
Give praise during a troop or service unit meeting (for individuals that enjoy open praise). 
Share with Girl Scout staff. Excellent stories paired with a visual (photo) may be shared on our social media channels. 
Create your own recognition award. A custom certificate or prize is a fun way to express individual thanks in your Girl Scout community.