Entrepreneurship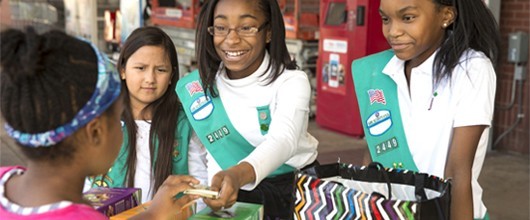 Our girls are known for their entrepreneurial spirit during Cookie Season, but what about after their last box is sold?
GSCTX has partnered with VentureLab, a non-profit organization that is helping develop the next generation of innovators, to bring our girls a new entrepreneur program that focuses on how to instill that mindset all year long. VentureLab Founder/CEO, Cristal Glanchai, PHD, is a scientist, entrepreneur, and mentor who is passionate about developing the next generation of creative leaders. Find out more about this partnership in the video below and stay tuned for upcoming curriculum and new patches! 

VentureLab Entrepreneurship Patch Curriculum
---
At GSCTX, we strive to provide girls with opportunities to explore different career paths (traditional and non-traditional), networking skills, and mentorship options. As entrepreneurs, girls gain essential life skills and work as a team to accomplish common goals and solve problems, while building the confidence they need to shine as girls, as young women, and as future leaders. And did we mention the fun? They have lots of that along the way, too.

Goal-setting & Financial Literacy - Want to start your own business or earn money for a trip to Rome? Let us help get you there!
Decision-making - Thinking of starting a business, but unsure of how to price your product? Girl Scouts know how! Want to learn how to negotiate? Our girls can do that too!
Business ethics - Reputation and being socially responsible means a lot in the business world, we want to help our girls understand how to build their brand by understanding business ethics! If you want to run your own successful business or master the art of sales, our Business & Entrepreneurship Programs are for you.
These programs will teach you daily life skills and will help prepare you for a bright future.
---