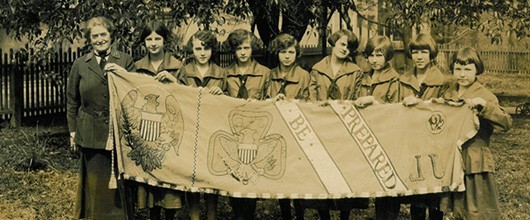 Our History
Juliette Gordon Low had a dream.
In March 1912, when she brought that first group of girls together in Savannah, Georgia, she wanted them to explore new possibilities and the wonders of the world around them—and she wanted them to do it together.
Along with Juliette Gordon Low, also known as "Daisy," these first Girl Scouts blazed trails and redefined what was possible for themselves and for girls everywhere. They played basketball. They hiked, swam, and camped. They learned to tell time by the stars. And most importantly, they shared a sense of adventure and a belief that they could do anything. And just like Girl Scouts do across the country and around the globe today, they offered a helping hand to those in need and worked together to improve their corner of the world.
Since the founding of the Girl Scout Movement more than a century ago, Daisy's small circle of girls has grown to include nearly 2 million girl members and more than 50 million Girl Scout alums—united across the decades by a spirit of lifelong friendship and shared adventure and the desire to do big things to make the world a better place.

Read more about Juliette Gordon Low and Girl Scout history.

"Truly, ours is a circle of friendships, united by our ideals." 
— Juliette Gordon Low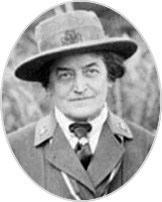 Nine years after Juliette Gordon Low began the Girl Scout movement in Savannah, Georgia in 1912, a troop was formed in Austin on June 14, 1921. Austin Girl Scout Troop #1 registered 16 members with the National headquarters.
In May of 1926, Austin troops were granted their first council charter and were organized as the Austin Girl Scout Council. In 1936, the first African American Girl Scout troop west of the Mississippi was formed in the Austin based council. A name change in 1946 to the Texas Colorado Lakes Council took place to incorporate eighteen counties. With additional location changes, the council eventually became the Girl Scouts-Lone Star Council with its main office in north Austin.
In 1937, shortly following the formation of the Austin Council, the San Angelo Council was chartered. It was later renamed the Frontier Girl Scout Council as more communities were added. By 1960 the council had grown to include many outlying areas and was renamed the El Camino Council.
Girl Scouting continued to grow in Texas as the North Central Texas Area Council formed in 1947 with 900 registered girls. In 1962, the Bryan-College Station Area Council joined the North Central Texas Area Council to form the Bluebonnet Council.
Meanwhile, Girl Scouting was taking hold in the western part of the present-day Central Texas council. The Heart of Texas Girl Scout Area Council took their first meeting minutes in 1949, even before their official incorporation. As of 1949, the council was serving over 2,000 girls. The Heart of Texas Girl Scout Area Council was incorporated in 1951 to serve 15 counties.
Today, these four former councils, Bluebonnet, El Camino, Heart of Texas, and Lone Star, and all of their properties make up Girl Scouts of Central Texas (GSCTX). Headquartered at the Kodosky Center in Austin, the council serves girls in 46 counties.
Meeting space and camp grounds are important to Girl Scouting. For nearly 70 years the councils of Central Texas have been working hard to ensure that Girl Scouts have the space they need to be, well, girls. Among the council's 31 properties, we boast three residential camps.

Camp Texlake, 124.4 acres on Lake Travis assigned to the Lone Star Council by the Lower Colorado River Authority, was dedicated on July 17, 1949. That summer nearly 400 girls attended camp.
Camp Wood Lake, located on the shores of Lake Brownwood, was first established in 1955. On June 10, 1956 the camp was officially dedicated.
Camp Kachina, 248 acres on beautiful Lake Belton, was purchased in 1957. The camp was officially dedicated in 1960, the same year it first welcomed summer campers.