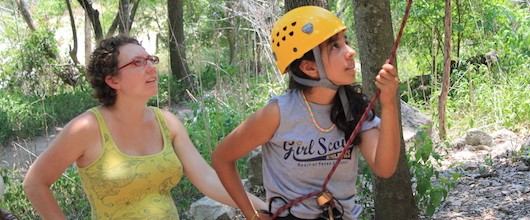 You're going to love being a Girl Scout Hero!
It starts with a girl. Each girl has a story that's waiting to be written.
And in every story there are heroes. Be the hero who believes in each girl's ability to change the world. Girls who want to grow up and make a difference need special heroes. Use your superpowers to unleash a girl's wide-eyed enthusiasm to make things better.
Invest in girls. Change the world. Become a volunteer today.

Ways to Volunteer
Working with Girls
Working with Adults
Working with Community

Archery Instructor
Troop Leader
Troop Helper
Girl Volunteer Trainer
Trip Advisor
Service Unit Director/Registrar
Troop Product Manager
Cookie Cupboard Manager

Event Coordinator
Program Consultant
Adult Volunteer Trainer
Program/Workshop Facilitator

Board Committee Member
Board Member
Office Assistant
Product Sales Coordinator
Gold Award Committee Member
Travel Committee Member
Product Sales Coordinator
Fund Development Leader

Camp Maintenance Volunteer
Community Liaison
Event Photographer
Event Coordinator
Outreach Advisor
Special Event Coordinator
Volunteer Awards Committee Member
Recruitment Coordinator

Alumni Contact
Event Host/Committee Member
Speaker's Bureau
Girl Scouts has flexible opportunities to fit your schedule. Give one hour, one day, weekly, or monthly depending on your availability.

Local Volunteer Opportunities
Impact the Future! Be a Leader!!
If you are interested in helping young girls explore their interests, skills, goals and dreams then becoming a troop leader might just be the opportunity you've been looking for. Guide girls as they build self-esteem and begin to realize their full amazing potential.
Training is provided to prepare you to help girl become the leaders of tomorrow.
Event Volunteer – Direct Service to Girls
You don't have to be a troop leader to make a difference in the life of a girl. We have opportunities for you to help with events and programs that will open new doors for girls and inspire them to try new things!!
Become a Girl Scouts volunteer and use your expertise, skills, interest and life experience as a coach, mentor or advisor. Inspire and empower girls ages 5-17 to have a fun and enriching leadership experience as they reach their personal best.
Program Center Volunteers
Each GSCTX service center is in need of volunteers to assist with data entry, filing, organizing, shop assistance, event preparation, etc. Your contribution of time will allow more of our resources to be used to help us achieve our mission of building girls of courage, character, and confidence, who make the world a better place!
Want to get dirty and use your hands? We've got hands-on service projects that need doing. Click here to see project opportunities.